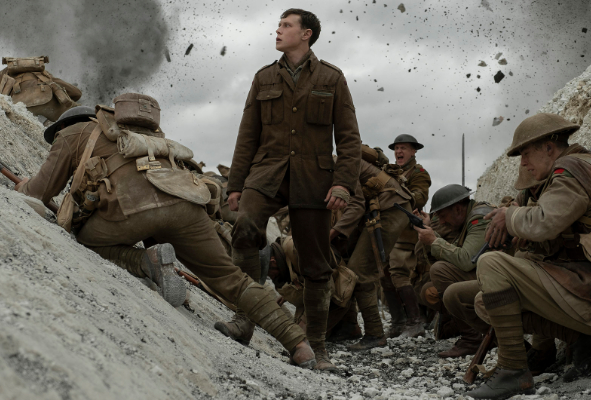 Academy Award nominated films coming up!
The Academy Awards always spark conversation and condemnation, setting social media alight with a wild variety of reactions and responses.
Nominated For: 3 Academy Awards including Best Adapted Screenplay, Best Actor (Pryce) & Best Supporting Actor (Hopkins)
Friday 17 January at 2.30pm & 7.30pm
No Netflix? No problem!
Behind the Vatican walls, Pope Benedict and the future Pope Francis must find common ground to forge a new path for the Catholic Church.
"A double-act masterclass... it's papal perfection!" (Times ★★★★★)
Book Tickets for The Two Popes
Nominated For: 6 Academy Awards including Best Picture, Best Actress (Ronan) Best Supporting Actor (Pugh) & Best Adapted Screenplay
Nominated For: 10 Academy Awards including Best Picture, Best Direction (Mendes) & Best Cinematography
Friday 7 - Monday 17 February
Up for a whopping 10 Academy Awards in most of the major categories, 1917 picked up two of the most prestigious Golden Globe Awards as the film won Best Drama Motion Picture and Best Direction for the already Oscar-winning director Sam Mendes (Skyfall, Spectre, American Beauty).
Mendes brings his singular vision to his World War I epic as two British soldiers embark on a dangerous mission to save 1,600 men from certain doom. At the height of the First World War, two young British soldiers, Schofield and Blake are given a seemingly impossible mission. In a race against time, they must cross enemy territory and deliver a message that will stop a deadly attack on hundreds of soldiers—Blake's own brother among them.
"Ambitious and passionate...a masterpiece" (★★★★★ Guardian)
"An instant Oscar frontrunner" (★★★★★ Times)
Nominated For: 11 Academy Awards including Best Picture, Best Direction (Phillips), Best Actor (Phoenix) & Best Cinematography
Friday 7 February at 7.30pm
Leading the way with 11 Oscar nods is one of 2019's biggest films! Joaquin Phoenix has already pocketed the Golden Globe for his enigmatic portrayal of the tortured clown, known as the Joker, in this harrowing origin story from director Todd Phillips.
We're giving you the chance to see it again on the Big Screen!
"Bold, devastating and utterly beautiful" (Empire ★★★★★)
Nominated For: 6 Academy Awards including Best Picture, Best Adapted Screenplay & Best Supporting Actress (Johansson)
Saturday 22 - Thursday 27 February
It could be a busy night for Scarlett Johansson! The actress is nominated for a Best Supporting Actress statue her role in Jojo Rabbit, but could also win the Best Actress award for her fantastic performance in Netflix's brilliant Marriage Story.
Jojo Rabbit itself has 6 nominations across the board, with a stake in the race to be crowned Best Picture in February!
Nominated For: Best Cinematography
Friday 28 & Saturday 29 February at 7.30pm
From Robert Eggers, the visionary filmmaker behind modern horror masterpiece The VVitch, comes this hypnotic and hallucinatory tale of two lighthouse keepers on a remote and mysterious New England island in the 1890s.
"A sublime maritime nightmare" (Guardian ★★★★★)
"A claustrophobic horror filled with sweaty desire, sickly jealousy, and unbridled rage" (Independent ★★★★★)
"A film that will make your head and soul ring" (Telegraph ★★★★★)
Book Tickets for The Lighthouse
You might also be interested in...
Spiltmilk Dance Presents... Desert Island Flicks! Two leading ladies, one mashed up movie marathon!
A blockbuster, adventure and rom-com rolled into one, Desert Island Flicks sees two leading ladies reimagine, remake and spoof the most memorable movie moments of all time, taking on the lead roles, stunts and special effects!
From timeless classics to modern day marvels, the show celebrates how iconic characters and thrilling plot twists have captured imaginations the world over, bringing people together to laugh, cry and cheer along in a room full of strangers.
Somewhere between a dance performance, sketch show, a night at the movies and an epic game of charades, Desert Island Flicks shines a spotlight on life lessons learnt from the big screen, all set to a sensational soundtrack.