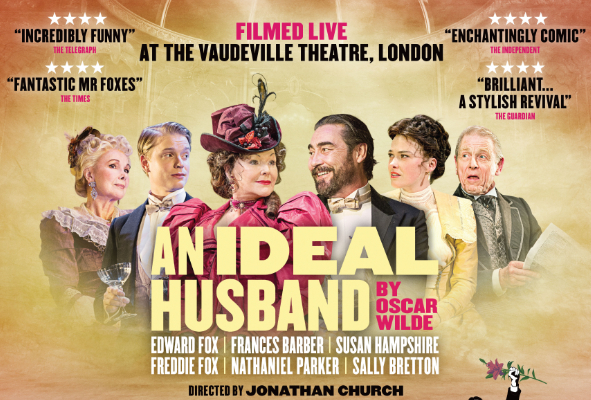 Event Cinema at The Bonington
We have a great mix of Live & Recorded Theatre, Opera and Dance broadcasts this year, including Northern Ballet, the Royal Shakespeare Company and more
Tuesday 2 April at 6.15pm
Leonora falls in love with Don Alvaro, but when her father forbids their marriage, a fatal accident triggers a drama of obsession, vengeance and tragedy.
Over the years La Forza has acquired a reputation for being cursed, following some unfortunate incidents. In 1960 at the Metropolitan Opera, the noted baritone Leonard Warren collapsed and died during a performance of the opera. The supposed curse reportedly kept Luciano Pavarotti from ever performing the opera and the tenor Franco Corelli to follow small rituals during performances to avoid bad luck.
OPERA
Music: Guiseppe Verdi
Monday 15 & Tuesday 16 April at 11am
Northern Ballet's Three Little Pigs hits the big screen as part of their fantastic season of interactive ballets for children, narrated by Anita Rani.
Three Little pigs set out into the world. One builds a house of straw. The second a house made of sticks. The third pig builds his house with bricks. Then along comes a very hungry wolf... With playful characters and spellbinding music, this adorable ballet is sure to have your little ones dancing all the way home with excitement!
BALLET: Recorded
Book Tickets for Three Little Pigs
Wednesday 17 April at 7pm
Come into the forest, dare to change your state of mind- 
Rosalind is banished, wrestling with her heard and her head. With her cousin by her side, she journeys to a world of exile where barriers are broken down and all can discover their deeper selves.
Director by Kimberley Sykes (Dido, Queen of Carthage) directs a riotous, exhilarating version of Shakespeare's romantic comedy.
THEATRE: Live
Book Tickets for As You Like It
Tuesday 30 April at 6.45pm & Sunday 5 May at 2pm
There are many versions of the story of Faust, who trades his soul with the Devil for youth and power, but Gounod's opera remains one of the most constantly enthralling. Michael Fabiano stars as Faust, with Diana Damrau as his beloved Marguerite and Erwin Schrott as the diabolical Méphistophélès. Virtuoso leading roles, a large chorus, sensational sets, ballet and an ecstatic finale make this the epitome of theatrical spectacle – the lavish scale of French grand opera is wonderfully in evidence in this production by David McVicar, set in 1870s Paris. Above all, the music includes several of popular opera's most recognizable numbers, performed by a cast of great international singers and the Royal Opera Chorus.
OPERA
Music: Charles-François Gounod
Wednesday 1 May at 7pm
The multi-award winning and critically acclaimed Lincoln Center Theater's production of Rodgers and Hammerstein's The King And I comes to cinemas in this unmissable event recorded live from London's iconic Palladium.
Reprising her Tony Award-winning role, 'Broadway musical's undisputed Queen' (The Sunday Times) Kelli O'Hara (Anna) takes to the stage alongside Tony and Oscar nominee Ken Watanabe (The King) in a powerhouse performance. Also returning to her Tony Award winning role as Lady Thiang is Ruthie Ann Miles.
"Five stars for a sumptuous King and I. It's a hit" (The Times ★★★★★)
MUSICAL: Recorded
Friday 3 May at 7.30pm
Join an incredible array of singers and musicians who came together to honour one of the world's most remarkable artists, Joni Mitchell, on her 75th birthday.
The handpicked group of peers and protégés includes Emmylou Harris, Norah Jones, Chaka Khan, Diana Krall, James Taylor, Rufus Wainwright and more paying tribute to the iconic artist, performing songs from all stages of Mitchell's life and career and her 19 studio albums.
MUSIC: Recorded
Wednesday 22 May at 7pm
A new production of the Rolls-Royce of English comedies, Oscar Wilde's An Ideal Husband, was broadcast live to cinemas from the Vaudeville Theatre in London's West End and is now available on the big screen!
Directed by Jonathan Church, this entertaining and still topical play brings an act of political sin into the heart of the English home. As an ambitious government minister, Sir Robert Chiltern's smooth ascent to the top seems assured until Mrs Cheveley appears in London with damning proof of his previous financial chicanery.
"Incredibly funny" (Telegraph ★★★★)
THEATRE: Recorded
Book Tickets for An Ideal Husband
Saturday 1 June at 3pm & 7pm
Matthew Bourne's Swan Lake comes to cinemas with a fresh look for the 21st century and is 'as bold and beautiful as ever' (★★★★★ Telegraph) This thrilling, audacious and witty production is perhaps still best known for replacing the female corps-de-ballet with a menacing male ensemble, which shattered convention, turned tradition upside down and took the dance world by storm.
BALLET
Choreography: Amtthew Bourne
Music: Pyotr Ilyich Tchaikovsky
Wednesday 5 June at 7pm
In a reimagined 1590, England is a matriarchy. Baptista Minola is seeking to sell off her son Katherine to the highest bidder. Cue an explosive battle of the sexes in this electrically charged love story. Director Justin Audibert turns Shakespeare's fierce, energetic comedy of gender and materialism on its head to offer a fresh perspective on its portrayal of hierarchy and power.
THEATRE: Live
Book Tickets for Taming of the Shrew
Tuesday 11 June at 7.15pm & Sunday 16 June at 2pm
Perhaps the most recognisable title of the Royal Opera House's Live Cinema Season, the story of Romeo and Juliet is synonymous with both love and tragedy. Whether it's been through studying Shakespeare's text at school or watching a young Leonardo di Caprio, we're certain you already know the story. It is a tremendous experience to watch the Royal Ballet perform this classic love story.
BALLET
Music: Sergei Prokofiev
Book Tickets for Romeo & Juliet
Wednesday 19 June at 7pm
A new production of one of the funniest plays in English, Oscar Wilde's much-loved masterpiece throws love, logic and language into the air to make one of theatre's most dazzling firework displays. Jack, Algy, Gwendolyn and Cecily discover how un-smooth the course of true love runs, while Lady Bracknell keeps a baleful eye on the mayhem of manners.
THEATRE: Recorded
Book Tickets for Importance of Being Earnest
Wednesday 31 July at 7pm
When a young novice nun is compromised by a corrupt official, who offers to save her brother from execution in return for sex, she has no idea where to turn for help. When she threatens to expose him, he tells her that no one would believe her. Shakespeare wrote this play in the early 1600s, yet it remains astonishingly resonant today, thanks in part to artistic director Gregory Doran's new production.
THEATRE: Live