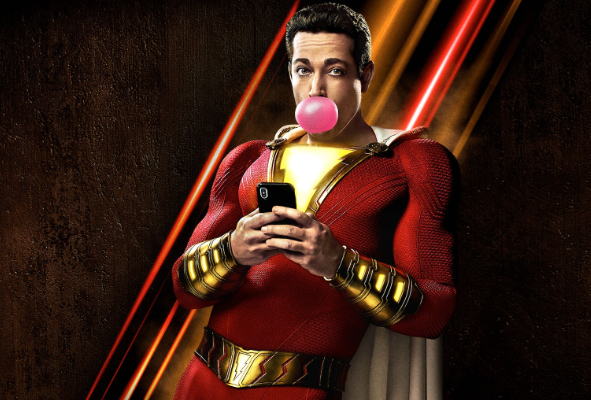 May Half-Term Films!
Wonder Park, Peppa Pig and Shazam! A whole host of great titles are showing during the May half-term break...
The school holidays are almost upon us, so why not check out these ace films we have showing...
Sunday 26 - Thursday 30 May
June, an optimistic, imaginative girl, discovers an incredible amusement park called Wonderland hidden in the woods. The park is full of fantastical rides and talking, funny animals - only the park is in disarray.
June soon discovers the park came from her imagination and she's the only one who can fix it, so she bands together with the animals to save this magical place and bring back the wonder in Wonderland.
Wednesday 29 May at 2.30pm & 7pm
Sensational, entertaining, and definitely something to sing about The Greatest Showman is a bold and original musical that celebrates the birth of show business!
Inspired by the ambition and imagination of P.T. Barnum, The Greatest Showman tells the story of a visionary who rose from nothing to create a mesmerizing spectacle that went on to become a worldwide sensation...
All tickets for this great family film are just £4.00!
Book Tickets for the Family Film
Friday 31 May & Saturday 1 June
Get ready for Peppa's biggest celebration yet when the muddiest ever festival comes to cinema screens to celebrate 15 years of Peppa Pig!
Little piggies can look forward to 10 brand new episodes including a 2-part festival special, as well as exclusive new interactive entertainment featuring little ones singing and playing along with their favourite onscreen characters!
Friday 31 May at 2.30pm
Billy Batson is a streetwise 14-year-old who can magically transform into the adult superhero Shazam simply by shouting out one word. Shazam! His newfound powers soon get put to the test when he squares off against the evil Dr. Thaddeus Sivana.
"Mixes lightning-strike punch-'em-ups with snark and sweetness" (Empire ★★★★)
Saturday 1 June at 3pm & 7pm
Matthew Bourne's Swan Lake comes to cinemas with a fresh look for the 21st century and is 'as bold and beautiful as ever' (★★★★★ Telegraph)
This thrilling, audacious and witty production is perhaps still best known for replacing the female corps-de-ballet with a menacing male ensemble, which shattered convention, turned tradition upside down and took the dance world by storm.
*Please note, this is a screening of Recorded Dance*
Also coming up...

Sunday 2 June at 11am
This charming, imaginative Disney retelling of the Robin Hood legend is an absolute classic!
Fun and romance abound as the swashbuckling hero of Sherwood Forest and his valiant sidekick plot one daring adventure after another to outwit the greedy Prince John (Sir Peter Ustinov) and his partner as they put the tax squeeze on the poor...