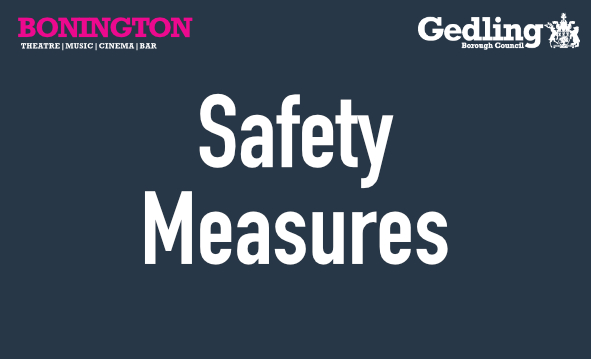 Social Distancing Measures
When our doors re-open, here are a few things you'll need to know...
As we get ourselves ready to re-open, here are a few things you'll need to know...
Before your visit-
If you are showing any signs or symptoms of COVID-19, please do not attend.
Facemasks are mandatory in cinemas unless you are exempt. Please read the government guidance here
Seats, toilets, handrails, door handles and lift buttons are cleaned before each performance.
Tickets-
Capacity for all shows will be limited to 24.
All tickets must be purchased in advance - no tickets will be sold at the Box Office.
For households larger than two people, please book the appropriate number of seats. Seating will then be arranged accordingly.
Please show your confirmation email at the Box Office. Phone bookers, please state your name.
The seating arrangement will be 'Cabaret Syle'., with chairs on the same level.
Your party's seating will be arranged 2m apart from other customers. Please keep at least 1m away from anyone not in your household.
Entry to the Cinema-
We now have a one way system in place, please follow the signage to the bar area. When instructed, enter the theatre via the doors on the right hand side of the bar, you may be asked to wait to enable social distancing. Please remain seated at the end of the performance and await instructions to exit. You will exit via the doors at the front of the theatre.
Bar / Drinks-
The bar will be closed under Tier 3 restrictions. It will be open under Tier 2 and Tier 1 restrictions.